After Illness: Can You Work Part Time During Recovery?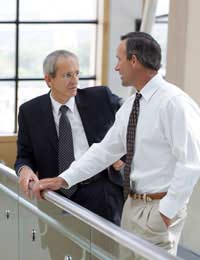 Q.
I am writing to ask a question about returning to work after and illness. My dad has been off work now for 7 weeks under hospital investigation and is on the mend, however it is difficult for him to jump straight back to work.
Is the employer under any obligation to discuss and agree with their employee on getting back to work gradually? e.g. Two days one week, three days the next? Or is it only when you are fully recovered that you can return to your work place?
(k.M, 13 April 2009)

A.
Thank you for your question regarding your father's return to work after a period of illness.
In answer to your question, while there is no legal requirement for your father's employer to give him a flexible return to work now that he is on the road to recovery, many companies will be more than happy to discuss this. After all, they would prefer to have an experienced member of staff back at work, even if it is for reduced hours.
The openness of the employer to be flexible about your father's return to work depends on their general attitude to employees, the ease in which your father's needs can be realistically accommodated and the nature of your father's duties. Sometimes the nature of the illness can affect the willingness of the employer.
Smaller companies can find it easier to accommodate changing needs as they may have simply left the position unfilled or covered by colleagues, whereas larger companies may have employed a temporary member of staff (perhaps on a contract). However, large companies can also manage employees returning to work in a more flexible manner due to the large number of employees required, so it really pays to ask the employer regardless. After all, if you don't ask, you don't get and it's not as though you are asking for anything negative.
If your father feels as though he is capable of returning to work in some capacity, the best place for him to start is to really think about what he is able to do at work. He will know his job and how he feels better than anyone. He may wish to take advice from his doctor to ensure that he is not pushing himself too hard in a way that could affect his recuperation.
Your father should write a proposal of what he would ideally like – as you suggest, one day per week, then two etc. – then write it in an email to his line manager, copying in the HR manager if appropriate. This can then form the basis of a meeting with his employer. They may wish to conduct a return to work interview and ask for medical advice or feedback from his doctor.
The majority of employers want to be fair, create a positive atmosphere and retain good employees wherever possible, so although your father is not entitled to a flexible return to work, many employees will welcome this opportunity.
Best of luck.
You might also like...