Are Larger Companies More Supportive?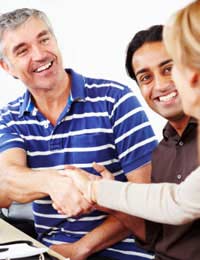 Returning to work after a period of illness is always tricky, with issues of how you will cope with the change, whether your role will have changed or difficulties getting back up to speed with project developments all adding to the stress. So it is a pertinent question to ask whether different types of companies or employers are more supportive to the returning worker.
It is certainly true that larger companies are more able to cope with an employee's extended absence in a financial sense, as for many small companies, particularly owner-managed companies that have fewer than five employees where the cost of an employee off sick extends to paying for temporary cover, the financial implications can be very troublesome. But are larger companies more supportive generally, or is that a convenient myth perpetuated by recruitment consultants?
Emotional Support
Although larger companies may have the financial ability to provide 'structured' emotional support in the form of counselling services, it has been known that employees accessing such services are noted for being 'weak or difficult' and consequently first in line when redundancies are necessary. Of course, no companies would admit to this, and would be keen to highlight the excellent support they offer their staff going through difficult times, but it is not unheard of for such support to be used against employees.
In contrast, smaller companies can actually offer stronger emotional support to employees returning to work after a period of illness as they often have closer bonds and more direct communication with each other. Personal relationships can be stronger across departments or roles as the teams often work together more closely, although this can of course mean that there are more 'personality clashes' with fewer places to hide!
Practical Support
Unless you have the greatest boss ever, it is likely that larger companies are able to offer more practical support for people returning to work after a period of illness than smaller companies, simply because they have the resources to do so. In many ways, the suitability of the practical support available to you depends on the type of illness you have had. If, for example, you need modifications to your working set up, such as a new desk, an ergonomic chair or a ground-floor office, larger companies will be able to deal with this more easily, but if the practical support you require is not related to equipment, such as being able to send an email rather than walk across the office, then a smaller company may be more open minded to changing practices.
Flexible Support
For many people who return to work after a period of illness the most important aspect of their continuing rehabilitation is flexibility and this can be most difficult for larger companies. Larger companies are often very good at doing what you ask if you are able to clearly define what you need, but can be less good at 'going with the flow'. It may be that you are able to come back to work full time as long as there is an understanding that you have to be able to take an hour or two off some mornings, or that you have to take irregular breaks. Smaller companies can be more accepting of this, as long as you talk to your boss and explain that you will do whatever you can to lessen the impact on your job.
Conclusion
There really is no one scenario that is best for a person returning to work after illness – what is the ideal situation is a flexible boss with the financial resources to support you in whatever way is necessary, but unfortunately that is not often the case.
You might also like...