Dealing With Criticism From Colleagues When You Are Ill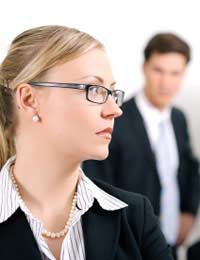 We would all hope that, if a colleague was ill, we would be supportive. We would also hope that if we were suffering from an illness, our colleagues would do all they could to help us until we got better.
However, the workplace can be a difficult environment and one where, unfortunately, co-workers can be quicker to offer criticism than advice. Bullying in the workplace is sadly rather common and, much like the cruelness of the school playground, anything that makes you different can be cause for problems.
Little Comments
A popular technique among more negative colleagues is to make critical little comments that are designed to hurt. Often, these comments can seem innocuous or even friendly, but it is clear that their intention is to undermine or upset. The very fact that these little comments are rather sneaky means that if you try to say something clever back or show that you have been hurt, the perpetrator can act affronted.
The best way to deal with these little comments is to have a little comment of your own prepared to say back. Try 'That's a nice thing to say!' – It's perfect because you don't sound bitter or mean, but it acknowledges that you are on to them.
Big Comments
Some co-workers are not so subtle and actually make critical comments that cannot possible be perceived as anything other than cruel. However, their skill seems to be more to do with timing – they say these things when nobody else can hear, so it's your word against theirs.
When you return to work after illness, you may find that such miserable co-workers like to criticise you either directly or indirectly. This may be with reference to times when you were not at work or situations that have occurred because of your illness, like taking doctors appointments in work time.
Do not allow yourself to be bullied by such comments – doubtless these colleagues will not have had the misfortune of an illness yet. If it becomes too much to deal with by avoiding them, speak to your boss or HR manager. Try to have an informal chat before you raise any official grievances.
Making a Complaint
If you feel as though the criticism from your colleagues has gone too far, you may need to make an official complaint. All too often bitter and twisted people are able to get away with treating co-workers in a manner than can cause great stress. As in the playground, until you are able to stand up to the bully, you may find yourself under great stress. This increased stress is not conducive to a full recovery.
If you feel able to, confront your critical colleague and ask why they have a problem with you. Tell them that you have dealt with an illness and do not need them to make it worse for you. Say that their behaviour is bullying. Sound strong and in control rather than weak and nervous – this will only compound the issue.
Finally, check yourself. Make sure you are not being overly sensitive and try to take some of the fair criticism on board. Remember that even though you have been through a tough time, your colleagues will still have been coming to work everyday and your time away may have made their job more difficult.
You might also like...