Establishing Family Routines When You Return to Work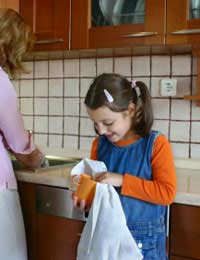 Returning to work after having a family is an exciting time but it can also be fraught with the stress that changing routines can bring.
In order to minimise the potential difficulties that this transition can cause you will need to create and maintain a routine. Some people find a very strict routine works best for them and their family and other prefer a more fluid plan within some set guidelines.
Have a think about what type of ideas work best for your family. If your partner responds better to an organised diary, you could think about using that technique for some elements of your home too. Make sure you put in all appointments and social events into a family calendar and arrange your childcare around your work commitments.
If you like to know exactly what each member of your family is doing when, with menu plans for the week and a family housework rota, then put these ideas into practice. This may take a bit of planning at first, but you will reap the benefits when you do not have to feel stressed about an unforeseen event.
Here are some guidelines for areas that benefit from careful organisation when you return to work. Involve your family in the planning and execution of your plans rather that just dictate as this will help everyone appreciate the positive aspects of having an organised family home.
Morning
The heady mixture of getting young children to child minders, older children to school and parents to work on time can cause a great deal of tension before the day has even started. Washing, dressing and eating breakfast tend to be flash points, so these are what need to be carefully organised. Lay out clean, ironed clothes for each person the night before. Check your family diary to see if any particular items need to be taken to school or work - PE kit or a presentation, for example
Give younger children a bath in the evening and be clear to older children that they need to get in the shower by a certain time each morning. Ensure they have a clock in their room.
Have a reliable repertoire of breakfast options that are balanced, healthy and quick. Porridge is excellent, as are scrambled eggs on toast. Have a glass of orange juice, too. Ideally, have everyone at the table at the same time, eating the same thing. Do not pander to food fads.
Have a definitive time that everyone needs to have left the house by - with car seats, petrol or clean windscreens ready.
Evening
When work is finished, you will need to have an organised evening routine to enable the next day to go smoothly. It is a good idea to plan your meals weekly, or even monthly, with quick, healthy options that can be cooked in the time you have available. You can do your supermarket shopping on the internet rather than struggling with a full trolley and children on a Saturday morning.
As soon as your children are old enough, they can help you with preparing the evening meal - when they are little they can put salt and pepper pots on the table and older children enjoy getting involved with chopping and stirring. This helps your children have a good relationship with food.
Once you have established routines that work for you and your family you will be able to maximise the free time you have together. Being organised also helps to set a good example to your children and stops every morning and evening being a stressful battleground.
You might also like...