A Colleague Presentation About Your Sabbatical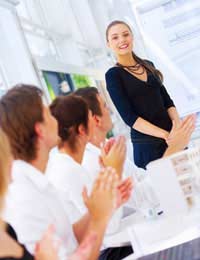 A good way to reintroduce yourself to your workplace and any new colleagues after your sabbatical is to do a presentation.
We've all had to sit through endless photos (or worse still, slideshows) of some random relative's trip to see an ancient rock, so do not fall into the trap of thinking everyone will be enthralled by a monologue about your adventure.
However, a brief presentation that has been carefully planned can be informative, entertaining and a useful tool to illustrate what you have been doing for time away.
Ask Permission
Before you start planning your presentation in any great detail, speak to your boss or line manager and ask if they are happy for you to talk to your colleagues about your sabbatical. Give them a brief overview of what you will talk about, make it clear that you will conduct the presentation at a suitable time (perhaps at lunch time or on a Friday afternoon) and that you will illustrate what you learnt that can be beneficial to your career and the company.
Once you have agreed with your boss or line manager when you are going to give your presentation, let your colleagues know. You could send out a group email informing them of the place and time - don't get too carried away with the formality of the invitation or you may irritate your colleagues and look like you are showing off. Just keep it friendly and say that on this date and time you will be giving a short presentation about your recent time in wherever and that everyone is welcome.
Plan the Presentation
The next step is to plan the actual presentation. Depending on the type of company you work for, you may wish your presentation to be targeted in a more informal or formal manner. Either way, you can introduce elements of interest, such as serving a drink that is characteristic of your trip, or play music of the region as people are coming into the room.
Keep It Short
Don't get carried away - just because you could happily relive every single moment of your trip doesn't mean everyone else does. When you are writing the presentation, keep in mind the purpose of your sabbatical and your audience - you may present it differently to friends.
Keep It Relevant
As you are at work, you will need to focus on the elements of your sabbatical that may be beneficial to your job and your workplace. If you developed a particular skill or experienced a certain set of circumstances that could be transposed to your workplace, make sure you mention it. Don't just talk about the cocktails and nightclubs!
Keep It Light
As your presentation is likely to be at lunch time or on a Friday afternoon, try not to be too down beat. Remember that your colleagues may have felt differently about your sabbatical than you do - perhaps they had to cover some of your workload or deal with a difficult client. Keep the presentation inclusive and relaxed. Allow people to ask questions at the end.
You might also like...