How to Start a Business from Home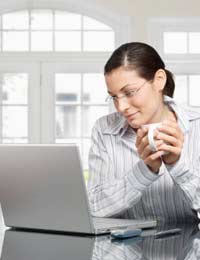 Starting a business from home takes a great deal of commitment, dedication and hard work.
You need to make some ground rules for yourself and your family before you start working from home or you may find that it is too difficult to introduce a structure later on. Alongside the important business issues of what your services or products your company will provide, the company name and so on, there are a number of practical issues to think about.
A Separate Work Space
When you decide to go self employed and start working from home, you need to have a designated area for your business to operate. Now, unless you have a large house, it may not be possible to have an office solely for business use, but if there is any way you can move your rooms around so that you have a separate work space, you will be pleased you did.
The purpose of having a designated work space is not just about being able to concentrate on your work; it's a psychological barrier that helps you know when you are at work and when you are supposed to relax.
When you first start working with your own business from home it can be tempting to work every hour possible and, while this may be necessary to get your business off the ground, you will need to make sure you relax and spend time with your family and friends. Without doing this, you will not be able to maintain the high pressure and working hours and, ultimately, your business will suffer.
If you are unable to have a dedicated study or business room, think about keeping a section of your dining room set aside for work, or see if there is a currently unused area that you could transform into an office, such as under the stairs or an upstairs landing.
Furnish Your Work Space
Now that you have decided on which area to work from, you need to make sure you have got the right equipment. You do not need to spend a fortune as there are a number of low-cost office furniture outlets.
When you work in an office, there is always someone else to buy the chairs or make sure you have the right height between your desk and your chair. When you are the boss, it is all up to you, so spend some time at the beginning making sure you have safe, effective office furniture. Badly poised desks and chairs can play havoc with your back and neck and can strain your eyes if you are working on a computer for much of the time.
Make a Timetable
When you actually sit down at your desk to start work on your home business and have to decide what to do first, it can be a stark realisation that you're now your own boss.
This can be exciting, but also rather nerve-wracking. You can end up spending ages on the wrong thing because you're procrastinating, or because you don't know where to start.
Lists and timetables are key when it comes to being self employed. You need day to day lists, weekly overview lists, monthly target lists, annual financial predictions and long term goals. Work out what needs to be done when, including seeing your family, attending parents evening, dental appointments and all those every day activities and write it all onto a week-to-view diary. Get used to looking at your diary and keeping on top of appointments.
Be clear about what you need to do each day to work towards your goals.
You might also like...