The Unseen Costs of Becoming Self Employed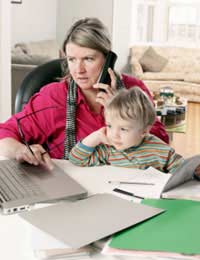 Even though the sky's the limit in terms of earning when you're self-employed, there are often a number of unexpected costs that can take the newly self-employed by surprise. These costs are not always financial; being self-employed can have a major impact on your work/life balance, as well as your relationships with friends and family.
Perhaps the underlying explanation of the various unexpected costs of being self-employed could be attributed to the fact that you have to do everything yourself. Even if your business quickly grows and you take on employees, there is usually an initial period when you become self-employed where it is your responsibility to sort everything out. While that can certainly be exciting and empowering, it is also a real shock to the system if you're used to being part of a big company!
Software and Equipment
It is almost impossible to list the amount of 'things' you have to buy as a self-employed person that would have magically been provided for you in an office. Even the simplest items like paperclips and printer ink have to be sourced yourself when you are self-employed. And you don't get the buying power of a big company either, so you'll soon appreciate just how expensive ink cartridges are, and that it is better to set your printer to 'fast draft'!
Even though many items are tax deductible, you still have to be able to buy them in the first place, which can get really expensive when you are first self-employed. Not only will you get very adept at 'making do' in a way that you would not have considered when you were employed, but you will also not waste money on buying unnecessary items.
Holiday and Sickness Pay
Unless you have arranged a comprehensive insurance cover, it is very unlikely that you will receive holiday or sickness pay, consequently it is well known that self-employed people have far less time off work than employed people! This is not a problem when you've just got a cold and have to drag yourself to work when you might have taken a duvet day if you were getting paid for it, but it can certainly be stressful if you really could do with some time to get better.
No Weekends
That could actually say 'no weekends, no bank holidays, no early nights, no part time working…' because when you become self-employed the buck stops with you. This is usually a wonderful incentive to work every hour possible to get your business off the ground, but it can often mean that you spend most of your time working or sleeping, especially in the early days. This leads us neatly on to …
Cost to Family and Friends
Even if your family and friends are wonderfully proud and supportive of you becoming self-employed, they can often be rather less pleased when you miss yet another important event, or are working through yet another weekend. In order to be successful in your chosen career as a self-employed person, you have to be very driven and committed, but you also really need the support of those closest to you as your choice will undoubtedly have an impact on their day to day life too.
You might also like...