Keep a Work Life Balance When Working from Home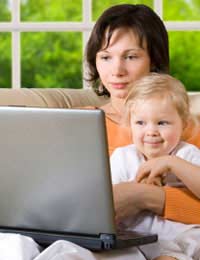 Many people choose to become self-employed in order to improve their work life balance, but it takes a lot of preparation, organisation and determination to make that the reality of working from home.
There are so many bad traps to fall into when working from home that it is imperative that you make some house rules so that you start as you mean to go on. Being self-employed and working from home is certainly different to working from home as an employed person, as you will have to motivate yourself without a boss chasing you up. Read the following tips in order to be in with the best chance to achieve that illusive work life balance!
Have a Separate Space
Even if you don't have the luxury of a separate office from which to work, you can designate an area of your home that is just for your work. You may have to be creative – perhaps the cupboard under the stairs could have a desk and chair in it, or maybe you could have an office shed at the bottom of the garden? Even if you have to make do with a corner of the dining room, make sure you will not be disturbed when you're working.
Define Your Working Hours
It may be that you are working all hours to get your business off the ground, or are fitting in your newly self-employed activities with bringing up your family. It can be hard to say 'I'm working until 6pm' and sticking to it, in just the same way as it's hard to stop working to just 'relax' when you know there is work to be done. If at all possible, set yourself defined working hours so that you know when you're able to spend time with your friends and family.
Make a Rota
Depending on your character and housekeeping skills, working from home can play havoc with your domestic standards! For some self-employed people working from home, they cannot concentrate unless the house is spotless, and for others a load of washing can be infinitely easier to complete than a difficult project! The best way to handle this is to create a rota that includes the people in your house that are able to pull their weight.
Taking Personal Phone Calls
For many people working from home, it can be almost impossible to tell a friend or family member that calls you in the day time that you are working. This is certainly a skill that needs to be learned quickly though, or your business will suffer. When your mother calls 'for a chat' when you're in the middle of a project, try suggesting a time when you can call back rather than just cutting her short.
Respect Deadlines
When you work from home it can feel as though you have endless time to complete a project as you can work as early or as late as you like. But try not to fall into the trap of taking far longer to do something just because you can – after all, how long you take has a direct impact on what you have actually earned for the project or task and reduces your earning power.
Keep Talking
Above all, the self-employed person that works from home must keep talking to the family they share their home with, and others that their life impacts on, in order to maintain the positivity that is needed for their business to succeed. There may be tweaks that can be made that make everybody's work life balance better, such as an agreement to not work on Sundays, or taking it in turns to cook supper in the evenings.
You might also like...