How to Write a Return to Work CV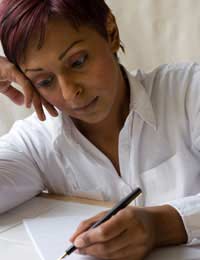 The best place to start on your quest to return to work is writing a great CV.
Don't be intimidated or nervous about writing a return to work CV – it's just about putting your best foot forward and making the most of your skills and experience.
Many people feel concerned about writing a return to work CV as it looks as though they've been away from the workplace and they do not know how to best explain their break. There are many reasons why you may be returning to work after a break – redundancy, bringing up children, a period of illness – so it is imperative that you know how to present yourself in the most appealing manner to prospective employers.
If you have an old CV from before your career break, dig it out and use it as a resource to get you going. After all, your school name and dates won't have changed! But, that said, it's important to remember that styles of CV change, so you can't just add to an old CV and expect it to get you a great work opportunity. And don't list all your GSCE subjects when you left school twenty years ago! Save the space for something more interesting.
If you don't have an old CV, just jot down a few key details about your background so you've got some 'bones' to hang the 'meat' of your career on. This is also helpful when you're just sitting staring at a blank piece of paper because you don't know what to write!
Here are the main sections that you will need on your CV, with some details on how to maximise the impact of your CV in each section.
1) Name and Address
Sounds pretty obvious but common mistakes include taking too much space to write your address and not including a mobile number or email address – you want to be easily contactable, after all. You don't want to waste space at the top of your CV as this is the area that recruiters or HR managers will first see, so keep it snappy.
2) Personal Statement
This is a short paragraph that shows you in your best light. It's best to not use the first person as this can sound too chatty, although do if you prefer. Don't 'pretend' that you haven't had a break, but don't go overboard with explanations either. You could try a sentence like 'keen to return to work after a fulfilling sabbatical' or 'looking to re-enter the workplace and put experience gained in the voluntary sector into practice'. If you have taken time out to raise your family, you could try 'an experienced marketing manager (or whatever) with valuable life experience looking to return to work'.
3) Career History
This is the bit that most people get stuck on. Don't think you have to 'stretch out' past jobs to make it look like you haven't had a break. Nowadays employers are far more appreciative of career breaks and, as long as you present yourself well and sound motivated and committed, they can see the value of people returning to work whose experience may otherwise have been lost.
Make the dates accurate, but include, where appropriate, voluntary work, sabbatical projects and relevant tasks such as arranging community events where your skills will appeal to the potential employer.
4) References
You no longer need to actually list your referees, although you ought to put 'references available on request' as your final sentence. It is worth deciding who you can ask to be your referees as soon as possible so that you can contact them in advance of potential employers asking you for names. If you have been away from the workplace for some time, consider asking someone that you have worked with on an informal or voluntary basis, such as the head teacher of your children's school if you have been involved in the PTA or perhaps someone connected to a charity for which you volunteer.
You might also like...
@Donna. Say "I took a workbreak to raise my son" but then add some of the skills that you may have picked up in doing so or include anything additional like being on a PTA or helping run a baby group etc.
AReturnToWork
- 28-Apr-15 @ 12:08 PM
I have had a break from work to have my son, what is the best way to state this, so the best phrase/ sentence to use?
Donna
- 23-Apr-15 @ 7:31 AM