How to Prepare for a Return to Work Interview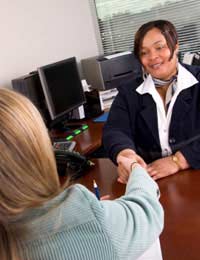 Give yourself a big pat on the back for getting an interview!
It's important to remember that companies don't tend to just interview people for the sake of it – if they've offered you an interview it's because they think you may be right for the job. This means that, while it's OK to be a little bit nervous because you want the job, you don't have to collapse into a quivering heap when you walk into the interview room.
Preparing for a return to work interview takes different forms. You want to prepare both your mind and body in order to be able to put your best foot forward. There's no point having the most perfect answers to interview questions all planned in your head if you're going to turn up in a crumpled old suit that you haven't worn for five years!
Prepare Your Mind
You want to be calm and positive in an interview, so you need to prepare your answers as much as possible so you don't feel easily foxed. Obviously, you can't plan for every eventuality and neither do you want such strict answers that you sound like an automaton or, worse still, give answers that you've prepared even if they don't fit the question.
The best way to think generally about the type of questions that may be asked is to go over the job specification or advert. You can also look at the company's website in order to see details of your approach and company culture, which will likely be reflected in the interview process.
Think about what you have been doing since you last worked in an office environment, or in your previous job. You will be asked about it so it's best to prepare your mind by appreciating what you have learnt outside of the workplace, be able to give tangible, relevant examples and be able to illustrate how this would be beneficial to your potential employers.
On a practical level, you will also need to plan your journey to the interview so that you do not arrive stressed and sweaty – not a good start!
Prepare Your Body
Well before your interview try to fit in some regular exercise into your week, if you don't already. Depending on the reason for your break from work, you may be feeling a little unfit or unconfident in yourself. Even just a short walk each day can help you feel more positive and get you in the right frame of mind.
You may also want to have a haircut so you look smart. Don't have a totally different style though or you may not feel confident – just look the best you can, so no roots showing!
As much as you want your experience and personality to get you the job, first impressions do count. Think about what you're going to wear in plenty of time so that you can try on your old suit to check that it still fits and looks good – take it to the dry cleaners if it's been in the wardrobe for a while and check there are no missing buttons or loose threads.
Similarly, check your shirt or blouse. If you've not worn your best white shirt for a while, you may find that it's gone distinctly grey – either buy yourself a new one or give it a good soak in washing powder before a hot wash to bring it back to life.
You might also like...