What if Your Job has Changed?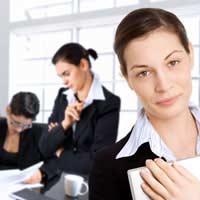 However sympathetic and understanding your employer is about your return to work following an illness, they are still focused on the bottom line. Depending on the industry in which you work, your time off sick will have probably been covered by someone else in your team or a temporary member of staff.
The length of time that you have needed to be away from work will also have a bearing on potential changes in your role when you return, as certain projects may have finished, or targets may have passed.
Also, some sectors are subject to rapid changes, such as regulatory changes or commercial factors such as an economic downturn or bad PR. Do not necessarily see any changes in your role as a criticism or snub of how you were performing, just understand that the business still carried on while you were off work and you need to fit in with the new situation.
Temporary Staff
If your role was covered by a temporary member of staff while you were off sick, they will have brought their own style of working to the role. This may mean that clients are now asking for them, rather than you, or that they finished a project that you were working on.
The best way to minimise the feeling that you have been 'pushed out' of your own job is to make friends with that person. They may be asked to do a hand over after you return, or, if possible, you could make an effort to introduce yourself before you return to work.
Colleague Filling In
If your role was filled by a colleague, either on top of or instead of their usual position, you need to make it clear that you appreciate their efforts and are now ready to get back to work. This is especially important if your colleague has their eye on your job permanently, or if it was a promotion for them.
In these circumstances, they are likely to have performed well in the role, which will have been brought to the attention of your boss or line manager. Don't be jealous or try to undermine their hard work or you will look bitter. Just get back to doing your job well as soon as possible.
Regulatory Changes
In some industries it is perfectly possible that, when you return to work after illness, there will have been some changes. This may be in terms of policy, circumstances or legal changes, so in order to show you are ready and willing to get back to work, it is important that you try to understand the implications of the changes as quickly as possible.
A good way to not let changes throw you off course when you return to work is to try to keep up to date with developments while you are away. Perhaps you can request that your boss or line manager keeps you copied in to important emails and make sure you regularly read the relevant trade press.
Project Changes
Depending on how long you have been away from your workplace and the type of company you work in, it is possible that projects have been completed, won and lost. Ask for an update meeting as soon as you return to work, which will show that you are keen to hit the ground running. You can learn about current projects and understand what is required of you. This is helpful both in terms of managing your own time and to keep abreast of developments while you have been away.
You might also like...