Taking Extended Maternity Leave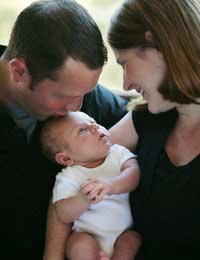 Many women find that their priorities change after having children, so the plans they made before having their baby no longer suit them.
It is common to find that women that were previously very career focused are simply not as driven as they were and crave spending more time with their baby rather than progress further up the career ladder.
The opposite can also be true in that some new mothers relish the intellectual challenge that work brings as opposed to the sole focus on their baby when they are at home.
Therefore, the truth is that anything goes. You can think you want to 'have it all' before you have a baby and actually find that you want to stay at home and have far less money, or people who thought they would be earth mothers want to buy ready meals and take on challenging projects.
If you decide that going back to work straight after your statutory maternity leave is not for you, you are not alone. Although 26 weeks (or 39 weeks for some women) may seem like a long time to be away from work before you have your baby, once they arrive it will seem as though you have only just go to know the little thing before you have to leave them with someone else.
Returning After 52 Weeks
The government regulations on statutory maternity is 52 weeks. This does not affect the amount of paid maternity leave. You are still entitled to a full 26 weeks paid maternity leave, with your employer paying a minimum of 90% of your usual weekly wage. Some companies chose to increase this and some take into consideration commission as well as basic salary. Some women are entitled to 39 weeks paid maternity leave, depending on your circumstances.
The 52 week regulation refers to an additional 26 weeks (or 11 weeks if you have had the full 39 week paid leave) of unpaid maternity leave. This means that your employer must keep your job open, under the same terms and conditions, for a full 52 weeks.
Not Returning After 52 Weeks
If, after this time is complete, you still decide that you require additional maternity leave and do plan to return to your position at some point, you will need to talk to your employer as soon as you have come to that decision. They will be able to tell you what is possible, although they have not legal requirement to keep your position open for any longer than 52 weeks.
If you decide that you do not want to return to your job at all, you must inform your employers straight away. Although it is not common, companies are entitled to ask for you to give back a proportion of any maternity pay that was over and above the statutory amount. If you hand in your notice, it must be in accordance with your employment contract and it can run concurrently with your remaining maternity leave.
You might also like...
hell- Your Question:
Can I claim any money for being off on extended maternity leave?
---
Our Response:
No Statutory Maternity Pay (SMP) is paid for up to 39 weeks.
AReturnToWork
- 11-Feb-16 @ 2:45 PM
Can I claim any money for being off on extended maternity leave?
hell
- 10-Feb-16 @ 5:30 PM