When Colleagues Are Embarrassed About Your Illness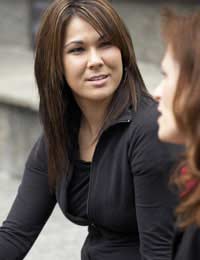 Returning to work after having to take time off to recover from an illness can have many unforeseen issues. It's not just about getting better and then dealing with your bulging in-tray, although that would be enough. Colleagues can have all sorts of reactions to your illness and your return to work, unfortunately not all of them positive.
One common reaction from colleagues when you return to work after illness is that they are embarrassed. This embarrassment can manifest itself in many ways, so rather than you being able to concentrate on the work you have missed, you may find yourself having to manage your colleagues too.
It's Their Problem
It is important to remember that, if your colleagues have an issue with you and your return to work, it is their problem, not yours. It is natural to want to deal with it and make it better, but it is not your responsibility to do so. However, it may make your working life easier and help your transition to go smoothly if you try to address any key issues with your colleagues. They may feel aggrieved that they were given your work while you have been off sick and that it has not been properly acknowledged. (Bosses take note – extra pay in these circumstances help enormously!)
Don't Hide Your Illness
There is no need for you to hide your illness when you return to work, although you may find that you prefer to try and concentrate as much as possible on your job. If there are physical effects of your illness, visible or not, by being appropriately open with your colleagues you will help them understand a little bit of what you have been through.
By hiding your physical or emotional symptoms, you make it seem more like you have totally recovered from your illness, whereas in reality you may feel ready to return to work but are not completely back to your old self.
Know When to Stop
The balance of not hiding your illness and knowing when to stop is a tricky one, because the very fact that you are returning to work means that you need to concentrate on your job. Some professions and workplaces are able to accommodate your convalesce more easier than others, so do be aware of what your employer is capable of providing.
Knowing when to stop also relates to talking to your colleagues. A good colleague will ask how you are and how your recovery is going – thank them for asking and tell them what you are happy to divulge. However, your colleagues and employers will not be impressed if every time they see you are regaling someone with tales of your illness.
Don't Make Excuses
The best way to minimise your colleagues embarrassment and any reactionary issues you face when returning to work after illness is to show that you are trying your best to complete your work in the most effective fashion. If you are not able to undertake your old role the same initially, tell your line manager and ask for it to be amended accordingly. Don't just do it badly and complain about it – this is a sure fire way of irritating your colleagues, even if you have had a difficult illness to deal with.
If you are too tired, or unable to concentrate one afternoon, take yourself off for a short walk, or ask to take work home if possible. If you are proactive in dealing with your situation, your colleagues will respect you more, not only for dealing with an illness, but for maintaining professionalism in the workplace.
You might also like...