I Invested Redundancy Money in New Business: Case Study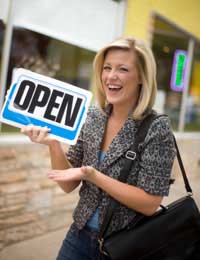 Even though being made redundant was one of the most difficult experiences in Susie Morston's adult life, her positive attitude has enabled her to use the situation to her advantage.
Susie, 34, from Norfolk, had been working as an IT trainer for a large company for nearly 10 years, and was devastated when the impact of the global recession meant that she was made redundant. She explained, "It all happened so quickly. The company provided IT consultancy to a number of major businesses and within the space of a couple of months we basically lost the majority of our contracts as companies aimed to cut costs wherever possible. I really didn't see it coming though, because I was finishing a client-site contract, but when that came to an end I was called to have a meeting with my line manager."
Positive Situation
When Susie was made redundant she was offered the statutory redundancy pay and a months notice, as well as assistance in career development such as writing a CV. She continued, "Although the money wasn't loads and loads, the fact that I was given a week's pay for each year I worked there made it a decent amount. Thankfully my husband and I have a small mortgage too, with some savings, so I didn't have the stress of many of my colleagues who had huge mortgages that were quickly descending into negative equity."
With Susie's redundancy money safely in the bank, she decided to look for another IT trainer role, but the job market was very slow and even though she registered with a number of recruitment agencies, she was not even offered one interview in her field. Susie commented, "It quickly became clear that I wouldn't just be able to walk into another job, so I decided to do something completely different. I'd always been interested in computers and had obviously gained considerable experience in my career, so I put out a few flyers for fixing computer problems at home."
Starting Slowly
Susie found that her business was well timed, as she was able to offer a competitively-priced service to her local community. She continued, "I spent some of my redundancy money on the flyers, as I had a copywriter write it so that it sounded professional, and also had a very basic website set up. I paid for Google Adwords advertising too, which was a good way to get up and running quickly. I also had an advertising wrap made for my car, which certainly helped spread the word."
Now that Susie has been operating her business for a whole year, she is finding it highly unlikely that she will want to return to the workplace. She said, "At first I thought it would be a good way to get through the recession until I was able to find another job in my field, as I'd never really considered being self-employed before, but the more I've got into it and seen my business grow, the more I enjoy being my own boss. I'm working harder than ever before and there is a different kind of stress that comes with not knowing where my next pay cheque is coming from, but I am feeling so fulfilled by running my own business that I don't want to give it up!"
You might also like...