I Stumbled Into Returning to Work: Case Study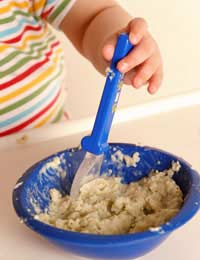 Not everyone who returns to work has a clear career strategy. For many people, returning to work is simply a financial necessity, or a prerequisite of the job they're in.
For Trish Parson, 37, from Cornwall, returning to work was more of an accident than by design! Trish told us more about how she stumbled into returning to work.
"I worked as an interior designer for a large corporate design company for quite a few years before I fell pregnant with my son Noah, and I always expected I'd return to work when he was about six months or a year old, depending on when my savings ran out! But once he was born, I just couldn't imagine going back to work, so I tried really hard to eek out my savings. My husband and I cut every corner possible – we cancelled gym memberships, didn't have a holiday, no meals out…out treat night became a home-made pizza and a DVD free from the library! – but it meant that we had enough money to last us until Noah was a bit older."
During that time, Trish thoroughly enjoyed spending quality time with her baby son and running the home. When Noah was about seven months old and Trish was weaning him, she made sure he had healthy food by puréeing a range of seasonal fruits and vegetables, which he really seemed to enjoy and was progressing well.
Lightbulb Moment
Trish continued, "I would always take a little pot or two of whatever I'd made with me when we had a day out, but one day it leaked into my bag and I had to buy something for him instead. I just couldn't find anything though! All the stuff in the supermarket seemed to be far less natural than I would make at home, even though it was trying to say it was all lovely stuff, when I looked at the label it has all manner of ingredients I didn't recognise, and the fact that it was all on the non-refrigerated shelf didn't exactly fill me with confidence either! That day, I just bought him a banana and an avocado and mashed it up, but it was my lightbulb moment when I look back."
Later that day Trish was telling a friend about the lack of good, healthy baby food available and the friend agreed, saying that she often resorted to giving biscuits or milkshakes in desperation when out with her kids.
Trish added, "I just knew there was a market for fresh, healthy baby meals that were in single portions ready for days out. I thought if I could make something that would be okay for a few hours in a bag, but needed to be kept in the fridge, and only use natural products, I'd be on to a winner."
Trish started to make little pots of her usual creations, using seasonal combinations like sweet potato and celeriac or carrot and green beans, and gave them to friends from her ante-natal group with weaning babies to try out. The response was very positive, so Trish looked into starting a small business.
Ready for a Change
She said, "I was so fired up by the idea and I knew that it was needed, but to be honest I found the hoops needed to jump through with food safety, hygiene and baby food grade products just too much to deal with, especially with a young baby and a background in interior design! But it got me thinking that I really wanted to go back to work and that I do flourish with a project to go at. I was just starting to think about what to do next when my employer called me to ask when I was going back to work. I have to say that I didn't really want to go back – I wanted to work, but not in the same high pressure environment as before."
Trish continued, "Thankfully my employers were really understanding and asked if I'd consider returning as a part-time consultant instead of an employee. I said I'd have a think about it, which I did. I realised that it would be less money, but we'd already proved we could be happy on less, and it meant that I wouldn't have to find childcare for Noah as I could work at home most of the time, so I agreed. I have to say it's been brilliant – not really what I thought would happen, but then, what is?"
You might also like...