How I Arranged Childcare: Case Study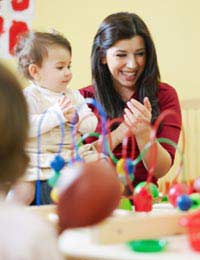 Organising decent childcare can be one of the most stressful elements of returning to work. For many parents who want to return to work, there simply isn't a solution that ticks all the boxes – affordable price, reliable service, flexible…the list goes on. So parents often have to compromise in order to make sure they have childcare that allows them to return to work – and perform well.
For Jess Goldman, 34, from Durham, the situation was the same as it is for many parents as she simply could not find reliable childcare in her local area. Jess told us:
"I was set to return to work nine months after my daughter Ava was born, to my job as an IT trainer for a car fleet company. I've always loved my job, and I know that I'm good at it, but I also knew that in order to stay at the high level I'd achieved in my company, I'd have to give it 100%. That meant that I simply had to find decent childcare for Ava so I wouldn't be worrying about her unnecessarily during the day, but could still give her my undivided attention outside work."
Jess looked into all the possible options well in advance of her return to work, especially knowing that her job frequently demanded nights away from home, often in Europe where the company had a number of client contracts, and that she would still be expected to attend.
Mixing Work and Home Lives
She continued,
"Without wishing to sound unsisterly, I always found it frustrating when women with children in the company would use childcare as an excuse, or expect their colleagues to make up their shortfall if they had to leave early, or have first dibs for Christmas holidays. I was determined to not use my child in that way as I wanted to be fair to the company, but also fair to Ava. I am fully committed to my job and to being a mother, and I knew that with the right organisation I could make it work."
Jess found that there one no one solution that gave her the flexibility she needed – the local nursery was not able to look after Ava at flexible times, the local childminders were not keen to allow Jess to sometimes pick Ava up late and nannies were unable to commit in the way Jess required. Jess's mum was keen to look after Ava as much as possible, but with a busy life of her own Jess felt it was unfair to ask for the frequency of childcare she needed.
Jess added,
"After wrestling with all the different options, I realised that the answer was probably a mixture of all of them. I knew that logistically it would be tricky and that I would have to be very organised, but thankfully I just used some of the skills from my job and made a clear spreadsheet of all the requirements. At least with my job I have some flexibility over occasionally working from home, or having a couple of days off if I've needed to go to a meeting in Paris or Munich."
Arranging Flexible Childcare
Jess spoke to her local nursery to understand what hours they were able to offer, the a local childminder to see how much notice she needed to take Ava for odd days here and there, and clarified with her mother what would suit her schedule.
"I basically wanted to know that Ava was always well cared for and that I could spend as much time with her as possible if my schedule changed, but also that I was totally present in my job in order to continue my career development. Thankfully, it's worked really well – my mum looks after Ava for at least one day a week, and is known to the nursery and the childminder so she can pick Ava up if needed when I have to work late. But it also means that if I get to work for a day at home, I can be with Ava and not have to let down the childminder or mess her about. This way, everyone is being flexible and we're all being fairly treated – and my daughter gets wonderful childcare while I'm at work."
You might also like...