Keeping in Touch with Old Colleagues After Redundancy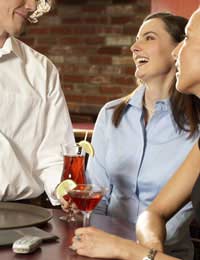 Keeping in touch with old colleagues after being made redundant has both good and bad points. You do not want to look bitter and twisted about your redundancy by not responding to Christmas cards or emails, but neither do you want to be the sad sack that hangs around outside your old workplace.
Work out what you are hoping to achieve by staying in touch with your old colleagues. If you had made good friends that you feel transcend the workplace, arrange a time to meet them as you would any other friend. If you thought you had made good friendships at work but being made redundant has made it awkward, perhaps you need to accept that your friendship was confined to your similar experiences at work.
Networking
Many people find that, with the changing world of work and very few 'jobs for life', keeping in touch with old colleagues is a good way to maintain your personal and professional network. That is not to say that you want to 'use' your friends, but you may be able to be mutually beneficial. It is perfectly normal to want to be wanted, so if you find that old colleagues ask your opinion or advice on something, they too may be keeping their network open.
Friendship
Over seventy percent of us meet our life partner at work, with eighty percent of people saying they have met at least one good friend in their current workplace. If you are one of those people, being made redundant will probably not make any difference to your friendship. However, you need to be aware that redundancy can cause changes in friendships, especially if your friend is still employed by your old company.
If there is a restructure and you are both made redundant, you may bond further over your shared experience. But if you are made redundant but your friend isn't, it can be hard to stay in touch unless you are both positive about the situation. Do not make your friend feel guilty or go on about the unfairness of the situation.
Acquaintances
If you have decided to keep in touch with some old colleagues, for whatever reason, do not fall into the trap of looking desperate and needy. Unfortunately, this can easily happen. The warning signs are when you make the effort to contact ex-colleagues and they do not contact you back, or if you find yourself trying to arrange to meet up and no one else is keen.
After you have been made redundant, by all means send an email to people you had a good relationship with – do not be too negative about your situation, especially as it is likely your old boss with see the email. This is easier if you have some sort of leaving do, as you will be able to assess the likelihood of continued friendships.
On-line social networking can also help, as it is no longer such as commitment to maintain passing friendships. Just make sure you are in tune with what contact is coming directly to you, rather than always being the one that arranges meetings.
You might also like...