Keeping in Touch With Colleagues on Maternity Leave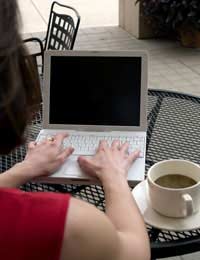 If you are planning to go back to the same job after having a baby, it is a good idea to keep in touch with your colleagues during maternity leave. This can help you stay up to date with any changes in your workplace and to enjoy some stimulating adult contact to women on maternity leave sometimes feel they are lacking.
Friendly Colleagues
If you have made good friends in your workplace, you will probably want to stay in touch throughout your maternity leave, with emails, texts and instant messenger services making it easier than ever to keep in contact. Make sure you ask about their work and personal lives, if appropriate, rather than just talk about your baby.
Although they will be happy to hear about your new bundle of joy, it is not much fun to listen to if you don't have your own family or if your relationship before maternity leave was more about large glasses of wine and gossip after work on a Friday night.
Professional Colleagues
If you have not made particularly good friendships in your workplace but still enjoy your colleagues company on a professional level, it is still a good idea to stay in touch. You can send the odd email and ask questions about particular projects, especially if key dates in the project will occur whilst you are on maternity leave. Do not copy in your colleagues to the emails you send to your friends and family – they will not be impressed if they get endless photos of your new baby and updates about your physical condition!
By all means, send one photo after the birth, especially if your colleagues or boss has expressed an interest, but do not get carried away. Keep it professional or your reputation may suffer.
Keeping in Touch Days
The government maternity regulations suggest that women on maternity leave may attend up to ten 'keeping in touch' days with their employer. These days have no formal structure and can consist of training days, informal meetings and half days, for example. They are only to be used with the agreement of both the employee and the employer and are covered by the strict maternity regulations guidelines. This means that you cannot be penalised for not agreeing to attend any of the 'keeping in touch' days. However, if your employer suggests you attend a particular training day, for example, and it suits you to go, it is good for the continuity of your role to attend.
Taking your Baby to Work
In some workplaces, it is common for employees who have had a baby and are on maternity leave to come to their office one day to 'show off' their baby. If you are happy to do this and it is normal in your work place, there is nothing wrong with calling in at an agreed time to introduce your bundle of joy to your colleagues. They may want to give you a little present, too. Do not stay too long though – half an hour is usually the maximum – and do not be offended if some colleagues are not interested.
You might also like...