Your Return to Work Date After Maternity Leave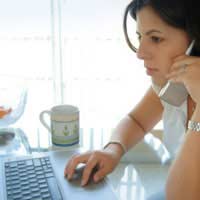 Planning to go back to work after taking maternity leave can be straightforward.
It can also be fraught with frustration over decision-making, concern that you are doing the right thing for your family and the stresses of finding reliable childcare.
While there are strict government rights and regulations for you as a pregnant woman, so too are there guidelines for your return to work process.
If you have an approachable, flexible employer, you may find that you are able keep things amicable and open throughout your pregnancy, maternity leave and subsequent return to work. Women often find that employers who have families themselves are often more understanding of the issues surrounding this time, although all employers are bound by the strict government rules regarding pregnancy and maternity leave.
Keeping to the Original Plan
If you plan to return to the same job after your maternity leave within the 26 weeks of 'Ordinary Maternity Leave', you are entitled to return to the same job with the same conditions. If you stick to the agreed date that you originally set with your employer when you began your maternity leave you do not need to give any more notice, just return to work as agreed, although many women chose to stay in some sort of contact during maternity leave or at least before they go back.
Flexible Working
When you return to work, you are also entitled to ask for flexible working to be considered. While your employer does not have to agree, they must explain their reasons clearly and fairly and show that they have tried all possible options for your request to be granted. Your employer is allowed to take up to six weeks to inform you of their decision, which can be frustrating if you are trying to organise new childcare and arrange schedules for your family. You may be able to arrange your flexible working quickly and easily if your employer is set up to deal with such matters, but be prepared that they are allowed six weeks to get back to you.
Handing in Your Notice
If you decide while on maternity leave that you do not want to go back to the same job for whatever reason, you need to inform your employer in accordance to the terms of your contract. This means that if your employment contract states you have to give one months notice, for example, you will need to give one months notice that you do not intend to return. You are allowed for your notice period to run concurrently with your remaining maternity leave, but do be aware that some companies can ask you to repay some of your maternity pay that exceeded the statutory amount.
How You Feel
Many women can feel let down by their employers in the run up to and during maternity leave, especially if they have been a loyal employee and are then only given the statutory maternity pay. This is common in commission-based roles, where employers then give the 90% maternity pay as the basic salary. This treatment can effect how women feel about returning to their role, in conjunction with the changing priorities that are common after having a child.
How you feel about returning to work is likely to affect how you inform your employer of your plans after maternity leave. While a face-to-face meeting or letter is preferable, many women who do not plan to return to their job simply send an email, especially if they feel their employer has only given them the very minimum after a solid work history.
You might also like...