Presentations In Interviews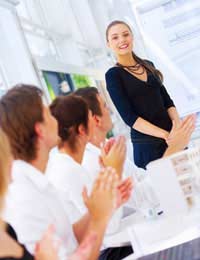 You are unlikely to be expected to give a presentation in an interview unless you have already been informed.
If you are told to give a presentation on the day, it will likely be for a sales type job and it will be testing your ability to think on your feet. Perhaps it is practical to have some ideas planned if this is the type of job you are going for – this is more likely in recruitment, banking or commission based roles.
A classic interviewer technique is to ask you to 'sell to them' something random in their office, such as a particular pen or the flip chart. If you are applying for jobs like this, doubtless this will not faze you anyway.
Find Out As Much As You Can
The most likely scenario is that you are told in advance that you will be expected to give a presentation in your interview. The company, or recruitment consultant that has set up your interview, may give you some information about the format of the presentation, or it may be that you need to ask.
If you are told about what is required, make sure you stick to it and address the request directly. You will probably not be asked back for a second or third interview if you do not listen to them and it will be noticeable that you have not addressed their structural or content requirements.
If you are not told what is to be expected from you directly, make sure you ask. There is no reason not to ask for details and it may well work in your favour. You need to get the balance right between asking too many questions, so you look as though you do not have ideas of your own, and not asking enough, so you waste time preparing an interview that is not appropriate to the requirements of the job.
Be Prepared
So, first of all, speak to your recruitment consultant or the contact at the company you have had the interview arranged by – this may be the HR manager or line manager of the recruiting department. Say that you are keen to make your presentation as informative as possible, so can they please tell you some details. Ask for the following information -
Is there a suggested subject matter for the presentation?How long should the presentation be?Who will be present?What facilities will you have available – laptop, flip chart etc?
Once you have these details, you can prepare your presentation knowing that you are addressing the needs of the interviewer and the role.
Of course, if you have asked these questions and gained the relevant answers, you must make sure that you do address them – there is no point being told that the purpose of the exercise is to find out a little more about you and your background, then write a presentation on the company history.
When you are preparing your presentation, try to make sure you stand out. You do not need to do anything wacky, just make sure your personality shines through – perhaps include a well-written handout to illustrate your presentation (print plenty of copies for everyone) or use some sort of visuals.
On The Day
As the day of the interview presentation arrives, allow yourself plenty of time to get prepared. Check any materials you need are ready – handouts printed and kept flat, laptop batteries fully charged – and put on your best suit. Remember that your hands will be in full view, so have clean, short nails and no missing buttons.
Start your presentation by thanking the attendees for their time and finish it by asking if anyone has any questions. Good luck!
You might also like...