How to Deal With Group Interviews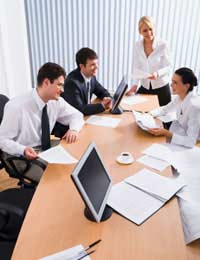 Companies use group interviews for a number of reasons. Often, they are keen to weed out the first batch of unsuitable candidates without spending one to one time with each person. They want to see how you perform in a group and separate the leaders from the followers.
There are pros and cons to attending a group interview. You can feel as though you are not able to show your capabilities in a group, or that your extrovert character is perfect for making sure you are the one that shines.
It is unlikely that you will not know if your upcoming interview is to be held in a group – your recruitment consultant or the HR manager will inform you and will probably let you know what to expect.
Invariably, group interviews include role play exercises, group discussions and perhaps a presentation from the company, so you will need to prepare for these activities.
Being Prepared, Being Judged
On the day of the group interview, allow plenty of time to get your self ready and arrive at the location. Dress professionally and have a smart bag with copies of your CV and a notebook with you. When you arrive, there is likely to be an area for you to wait – there may be coffee and biscuits. When other candidates arrive, smile and introduce yourself. There is no reason to be snooty or unfriendly. You are all going to be 'working together' on role playing exercises today so it can help if you have made an early connection with someone.
The day will start with some sort of introduction from the person hosting the group interview – this is usually the HR or recruitment manager of the company. They may be joined by a senior manager, too. Pay attention because you may be able to use some of the information during the day.
You must be aware throughout the day that you are being assessed and judged on your actions – from whether you take cigarette breaks to how you talk to your fellow candidates over lunch. This may sound terribly stressful, and indeed it is, but unless you are able to handle such situations, companies that require you to attend this type of group interview may not be for you.
Typical Group Interview Exercises
Role play exercises will usually involve two or more people acting out a given scenario in front of the rest of the group. This will probably be connected to the type of work the client is involved with, although they may chose a totally random set of circumstances to see how you deal with it.
You will need to make sure that you put your best foot forward – be as confident as possible or you will fade into the background. It is worth remembering that at group interviews there is always someone that is the big character – making everyone laugh and generally showing off. This does not make them the best candidate for the job so do not be intimidated. Try not to be paired with them if possible.
You may be expected to make a presentation to the group at some point in the day. If you have been given time before the interview to prepare something, try to use some innovative prop or visual. If you have only been informed on the day, you will probably be given some materials and a subject matter to work with – don't try to show off, but do make sure you address the brief and make it memorable.
You might also like...