Work From Home Jobs for Mums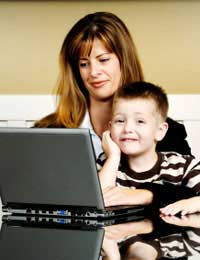 There are so many opportunities for mums to work from home that there is no reason to go back to the office based 9 – 5 unless you really want to.
With broadband internet, Blackberry's and greater environmental awareness, the idea that the only to earn money is to commute two hours a day to a glass monolith on an industrial park is crazy. Yes, it takes a little more inventiveness and looking in the right place to find your work life balance, but once you do, the rewards are endless and you will never contemplate working in someone else's office again.
It is not possible to come up with an exhaustive list of possible work from home jobs for mums, but here are a few ideas to get you started.
Telemarketing
Now there are so many cheap phone and broadband packages available, using your telephone to work from home is no longer an expensive idea. Be careful if you chose to phone using Skype or another voice over internet protocol provider as the calls can sometimes be unclear or crackly, which is not very professional. These types of jobs can be found through recruitment consultants – they do not tend to advertise them as they are often to work for the agency itself.
You can also find many mystery shopping or telesales jobs, try looking in your local paper or ask at the local Job Centre or general high street agency.
Recruitment Consultant/Head hunter
Depending on your experience and level of seniority, gathering information for recruitment consultants can be a lucrative business. You want to have a basic salary plus commission though, or you can end up doing loads of work for no money if your candidate does not take the job.
If you have recruitment experience, you can offer your services as a freelance head hunter, or, if you are feeling really brave, set up your own agency.
Virtual Assistant
This is a relatively new job title that is gaining respect from many small business owners. Women with previous PA or secretarial skills are getting wise to the idea that they can provide their services remotely to a number of clients. This can involve administrative tasks such as spreadsheets, presentations and bookkeeping. There are networking groups you can join to promote your business although the best way to gain clients is to utilise your own 'word of mouth' network of friends and previous colleagues.
Mumtrepreneurs
This is the latest buzzword – it is used for the rapidly growing number of young mums who are keen to get a good work life balance and set up their own business from home. The businesses can be anything – a consultancy of your profession before you had your baby, making your own products like cards or cookies or starting a whole new self-employed adventure. There is a great amount of support, advice and funding out there if you look in the right places – your local library is a good place to start, banks often have competitions and advisors and the internet offers unlimited potential.
You might also like...