Telling Family and Friends About Your Redundancy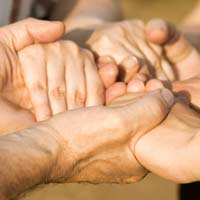 How you tell your friends and family that you have been made redundant will have a great impact on their view of the situation.
If you sound or act embarrassed, they feel embarrassed. If you are angry or depressed, they will find it hard to stay positive.
Once you have accepted that being made redundant is simply a part of your modern working life, you will be able to tell people in an open manner, rather than hiding the fact or feeling ashamed.
You must accept that you will feel a range of emotions after being made redundant, but there is no reason that you should be embarrassed or ashamed, even though these are very common reactions.
After you have been made redundant, if at all possible spend some time alone to give yourself a chance to feel the inevitable initial shock. Even if you simply go for a coffee and have an hour before you tell anyone, this can make a big difference. If you phone your partner or friends as soon as you have been told, you may find that you wished you hadn't. This is usually because your first reaction is one which should be kept private. Your friends or family will want to help you and be supportive, so tell them in a way that will give you the right sort of support.
Telling Your Family
If you are the main bread winner in your family you may have a sense of letting your family down when you are made redundant. This can be helped greatly if you have been given a redundancy pay out or are in an industry where redundancy is common. You may wish to talk to your partner before you tell any one else, which will help your shared sense of responsibility.
If you and your partner are joint earners in your family, you may find it easier to ride a period of unemployment, although your emotions and confidence can take a real knock. You will need to talk to your partner to see how long you can afford to be out of work for, especially if you plan to retrain or take some time to reassess your career.
You will also need to tell your extended family. Many people find that, however old they are and in charge of their own lives, telling their parents they have been made redundant is a difficult experience. If your parents are prone to worry and do not necessarily understand modern working life, you may choose to tell them in a way that they will understand easier.
Telling Your Friends
Sharing your experiences and emotions with friends can help you bond and be closer than before. However, some friendships do not survive difficult experiences, so choose your support network carefully. You do not have to tell everyone what is going on in your life, just as they are unlikely to tell you everything that is going on in theirs. If you have a friend who has experienced redundancy, they are sure to be able to offer you support.
You might also like...