What to Wear at An Interview & Tips For Positive Thinking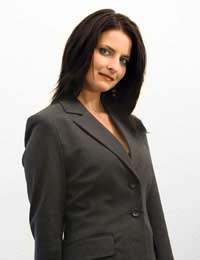 What you wear to an interview is not only about first impressions for your potential new employer.
It's about feeling good, putting your best foot forward and showing yourself, as much as anyone else, that you are ready for a new challenge.
Clothes
If you have a decent suit that still fits well and has not dated you do not need to buy a new one. (How long was it since you last wore it? You will not feel good if it still has shoulder pads from the first time around and it will say something about you that you may not wish to say).If you do not own a suit or you only have one that you can longer fit in or is unflattering, now is the time to treat yourself to a new one. You do not need to spend a fortune - Next, Marks and Spencer's and even some supermarkets now sell good quality, well cut suits. If you do want to spend a little more and you have not bought a suit for a while, you could utilise the 'Personal Shopper' service available in good department stores and get some professional advice.
Choose a plain shirt or blouse to go under the suit and add a little personality with a brooch, scarf or well chosen tie - beware the wacky tie or socks, though, your interviewer will not find it funny and it may put them off you totally.
Shoes
Make sure you have a pair of plain, newly heeled court shoes, brogues or dress shoes. Clean them well and check the laces are not about to break. Ladies should not wear very high heals, although they can be a little more unusual if your suit is plain, especially if your interview is with a creative company.
Hair and Make Up
Now is not the time for experimenting with new colours and styles. For your make up, just go for a smart, polished everyday look - don't go overboard or you will not be taken seriously. If you have long hair, tie it up in a smart ponytail, bun or chignon. Shorter hair styles should be conservative, rather than your spiked up Saturday night style. Men should have a trim in the week before the interview so they look groomed and have a shave on the morning of the interview - use plenty of saving foam so you do not have to go to the interview with little bits of tissue tuck to your cuts!
Positive Thinking
Write It DownBefore your interview, take a few minutes to write down why you want the job, what you have to offer and a reminder that you are a smart, clever person. Keep it in your pocket or handbag and read it before you start. This is also a good way to remind yourself of answers to any potentially difficult questions about your previous employer or circumstances for leaving.
Breathing Exercises
If you are feeling nervous before the interview, allow yourself to take three deep breaths. You can do this anywhere and it will help you to calm down and think more clearly. If you do it subtly, you can even take deep breaths in the interview itself.
You might also like...