Writing a CV After a Long Term Work Absence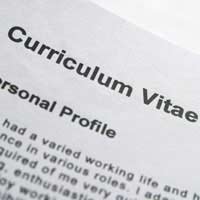 The first thing to remember after a long term absence from work is that you are likely to have had to overcome a possibly difficult or stressful situation, such as a long term illness or having a baby. Do not be harsh on yourself at this difficult time because in order to flourish you must feel positive and confident.
The second thing to remember is that you will have gained a number of important skills during your absence, even if you do not know it yet. Even if your new skills are not tangible, your time away from the workplace will have likely changed you as a person in ways that can be beneficial to your employers - you may have gained a greater compassion or ability to multitask, for example.
Profile
After your name and contact details, start your CV with a profile. Remember that most HR managers and recruitment consultants only look at your CV for a maximum of thirty seconds before they move onto the next one. This means that what the first half of the first page says is what makes them decide whether to read any further. There is no point having your O level grades from over twenty years ago here as you will be doing yourself a disservice – they can wait to go at the end.
A profile is a great way to highlight your best points and put yourself across in the best manner possible. Don't worry about showing off – now is the time. If you don't do it no one else will anyway.
List Skills and Achievements
After your profile, write a clear, concise list of bullet points that qualify and quantify your skills and achievements. Use business language and give examples of facts and figures wherever possible. If the skills you have learnt have been mainly gained in the domestic arena, try to use practical examples.
Don't Lie
Don't try to cover up your long term absence from work on your CV – there is no reason that you should and it will make you look 'guilty'. You are perfectly entitled to have taken time away from the workplace to have a baby, raise your children or take a sabbatical, so be proud of your life choices.
Do not try to make the dates of your previous employment longer than they actually were as you will be found out when any references are obtained and it will make your employers question what else you have lied about. As long as you make it clear why you have taken time out of your career and what you have gained from that time, your CV will be able to positively reflect you as a rounded, well balanced person.
Courses and Training
If you feel as though certain areas of your CV are lacking – such as IT skills or particular training that would be helpful when you return to work – it may be worth your while investigating the possibility of attending an evening class at your local college or library. This can help balance any gaps in your CV as it will show that you were still keen to progress in your chosen field even while you were away from paid employment.
You might also like...