New Employment Agencies for Working Mums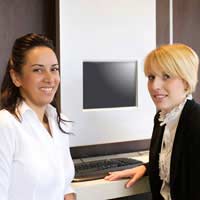 As more and more people are realising that many highly skilled (and even not so highly skilled) mums would love to return to work but find the practicalities of arranging flexible childcare and working conditions too frustrating, there are a number of recruitment agencies popping up for their benefit.
This great untapped workforce has wanted to earn money for years, but cannot or would not fall into line with the less than flexible employers and job opportunities on offer.
Nowadays, however, the world of work is not just about 'presenteeism' - sitting at your desk for as many hours as possible, shuffling paper just to show how busy you are. With broadband internet, Blackberry's and a greater understanding that people want a decent work life balance, you are not only considered for a job if you will commit to being in the office every waking hour.
The new breed of employment agencies with either specialist divisions for working mothers or their whole operation dedicated to such people tend to be fresh, modern and full of ideas. Invariably the owners and managers of such operations have experienced these issues themselves and are keen to fill this niche in the market.
The best place to find these new agencies is the internet as they are often run from home or virtual offices. If you are a subscriber to any of the mother and baby magazines you are also likely to have heard about such companies.
In addition to the actual recruitment agencies that offer vacancies that are particularly suited to working mothers, you can also look at the many support websites and forums that operate. Here, you will find both links to relevant agencies and ideas for types of work that may be better suited to your new life.
Agencies
Register your CV with agencies that have been set up with working mothers in mind and have a vast range of vacancies on their books.
You can also register with high street agencies on line divisions.
If you would prefer to deal with a recruitment agency face to face, ask your friends from your mother and baby class if they would recommend anyone, or speak to your friends that have already returned to work to see what advice they can give you.
Support and Networking Sites
Join a working mums or relationships forum and you will get plenty of practical advice from new online friends. These sites are also a good place to find out about jobs, potential jobs and employment opportunities.
In addition to the potential job seeking information you can find on these sites, they are a good way of making new friends, especially if you are feeling devoid of adult company while you are at home looking after your new baby.
Companies to Help you Prepare
If you feel as though you could do with a little extra help with updating your CV or some interview preparation, there are companies and websites that can help you - many of them have a 'back to work' support package with CV and interview coaching which is ideal for mums looking to return to the workplace.
You might also like...