The Modern Interview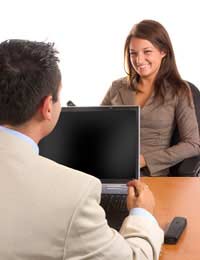 For some reason, the word 'interview' can strike fear into the most capable of people. Although many women are perfectly confident about their abilities as a wife, mother, friend and daughter, the idea of going back to work and having to endure a painful interview process is a source of great stress.
There are many ways to help you overcome your feelings – being prepared is a great start, as it truly understanding yourself and what you have to offer the modern workplace.
Depending on the type of organisation you are applying to work for and the level of your position, the interview you can expect can vary.
If you have been put up for the position by a recruitment agency, it is a good idea to ask them what you can expect. They should be able to tell you how the company usually conducts first interviews and possibly the character of the person who will be interviewing you.
Informal First Interview
Although your potential new employer may say the interview will be informal, you will still be expected to follow some 'rules' – make sure you turn up on time, be smartly dressed and answer questions carefully. Don't smoke, even if they offer you a cigarette and do not choose an alcoholic drink if you are in a café or hotel bar.
Formal First Interview
In some ways a formal interview is easier to prepare for as it is clearly different from an everyday situation, whereas an interview in a café can seem more like meeting a friend.
Again, make sure you turn up on time – allow plenty of time for tubes, cabs and wrong turnings. Take a few deep breaths and have a peppermint while you wait (although not a large one so you are still sucking or chewing when the interview starts).
Practice your handshake with someone you trust – the right amount of eye contact and firmness will make a good first impression.
Panel Interviews
The best piece of advice to remember regarding panel interviews is to make eye contact with different members of the group. You do not want to look like a crazed person though, so a good rule of thumb is to focus on the person that asks you each question.
If you have been asked to prepare a presentation, have copies for each person that is on the panel. If at all possible, ask for their names before the interview and use them after they have asked a question.
Be Prepared
All interviews are stressful – how you feel shows that you want the job, so do not feel self conscious. If you start to feel a little overwhelmed, it is perfectly acceptable to say 'I'm rather nervous because I really want this opportunity'- you will get the interviewer on side and give yourself a minutes breathing space.
Your preparation must include your appearance and your answers. Make sure you are clear about why you want the job – research the company on the internet and be able to recall a fact that appeals to you. Read the job description so you are able to say how your skills are suited to the vacancy and what you can offer the organisation.
You might also like...