Arranging Childcare for While You Are at Work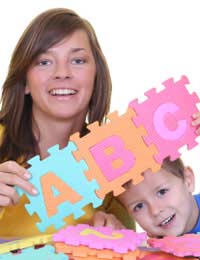 When you decide to return to work after having your children you will need to arrange adequate childcare provision.
This is one of the most important decisions that you can make as it affects the upbringing of your child. You will need to pay a great deal of attention to this decision and as such you need to allow plenty of time. Many of the best childcare providers have long waiting lists, especially those in high income areas where people are prepared and able to pay for the best possible care.
The various types of childcare may not all be available in your area. Give yourself plenty of time before you return to work to weigh up the possibilities and to see which option best suits your circumstances. Please be aware that some childminders and nurseries accept children on their waiting list when the mother is only three months pregnant!
Be armed with a list of questions to ask whoever will be looking after your child, so any expectations are clarified from the beginning. Depending on your preferences and attitude, the list may include such questions as -
Do you have any outdoor space for the children to play?How many other children do you look after?
How flexible are you if I am required to work late at short notice?
What transport do you have?
What insurance do you have?
What food will you provide for the children?
What relevant qualifications do you have?
What fees will you charge during holidays (i.e. when you look after your child)
What would you do in an emergency?
Do check if you are entitled to any financial help to pay for childcare. The current tax credits system allows families with an income of up to £55,000 to receive some help. Look at the government website to find out what you are entitled to claim.
Relatives
You will truly be subject to 'babysitter envy' if your mother, mother in law or another relative is happy and able to look after your child on a regular basis after you return to work. This has a great number of benefits - invariably you will have similar views on childcare, such as healthy eating and manners - and your child will be able to bond with a family member rather than a 'stranger'.
If you are lucky enough to be able to have regular childcare from a close relative, make sure that you confirm the terms of employment, however happy they are to do it. Over time, goodwill can be eroded by differences in expectation, so be honest and open upfront. If they do not want to be paid for their time, you could still arrange some sort of monetary remuneration - vouchers or payments directly into their bank. It may just be that they don't want to ask for money but it would still be appreciated.
Childminders
Childminders vary greatly. The best way to find a reputable childminder is through word of mouth - ask your friends with children if they know of any vacancies. Arrange to meet the childminder and take your child with you - you will be able to sense if they will be compatible and you can see how they interact with your child.
Work Crèche
Large organisations may have a subsidised crèche for you to use. This is very practical because you will be able to take your child to work with you and will be nearby if required. You will also be able to call in unannounced to assess the environment.
Work crèches tend to be well run, with plenty of qualified staff and good learning and playing facilities.
Nursery
Nurseries are actually the least regulated of all non-family childcare facilities, so it is worth checking the government approved list before you commit. This can provide the most flexible type of childcare though, as there will usually be a number of staff able to provide early and late cover.
You might also like...