Updating Your Skills After Maternity Leave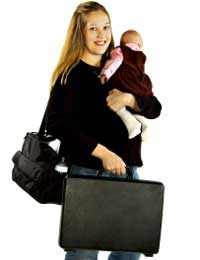 Returning to work after taking maternity leave can be a daunting prospect, regardless of whether you have been away from the workplace for six months or six years. In order to reduce the inevitable stress, it is worth doing everything you can to ensure you feel prepared.
A key concern for women returning to work is dealing with how the skills and experience of their colleagues differs from their own, having taken time out to have and look after their children.
In some industry sectors, workplace trends can move quickly, with terminology and ways of working going in and out of fashion in a matter of months. This tends to be more prevalent in creative industries – like design and media – although it can also be true in corporate environments, such as investment banking.
Changing Trends in the Workplace
Even in sectors where trends do not move quite so fast, such as teaching, you will still find that you can feel left behind when you have been away from the workplace for a period of time. This is often because certain events have happened or changes have occurred in the infrastructure.
There are many ways to update your skills before returning to work after maternity leave and this has the added advantage of being able to speak to people who understand the changing face of the workplace, so you can ask questions about current trends. It is also advised that you keep in touch with your colleagues while you are on maternity leave so that you are up to date with office gossip and any staff changes.
Classes for Updating Skills
If you have been away from the world of work for some time, it is worth looking into classes to update certain skills, such as IT and networking. These are two key areas of expectation in modern offices, so not only will you find it hard to get a job if you have not upgraded your IT skills in particular, but you will also give yourself the boost of confidence required to apply for a new position in the first place.
The Library
The best place to start your search for an affordable IT skills course is your local library. They have accessible courses for people of all ages and experience, so do not worry that everyone else will be whizzing ahead before you have even found the on button.
Learn Direct
If you have some experience with computers, you can look at the Learn Direct website. This is a government funded organisation that offers free and low cost courses in a wide range of subjects. You could also take this opportunity to build your CV with other skills relevant to your chosen employment field.
Adult Education
Your local high school or county council will also run adult education classes, which can be a great way to meet new people as well as boost your skills. You can choose from a wide range of courses, with IT, networking and language skills being particularly suited to returning to work after taking maternity leave. Do remember that even if your job is not directly connected to using computers, everyone in modern employment is expected to understand the basics of the internet, email and word documents.
You might also like...