Networking Gave Me an Opportunity to Return to Work: A Case Study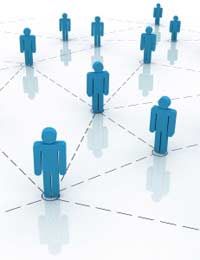 When David Ellis, 41, was made redundant he felt sure that his career possibilities were limited. The fact that the advertising industry had been particularly hard hit by the recession and he had not worked in any other field since he graduated meant that David was sure he was in for a period of unemployment.
Initial Reaction
David explained the situation, "The crisis hit the advertising industry so badly that it was clear there were going to have to be some redundancies as all the budgets were being cut, so I wasn't totally shocked when I was made redundant. That didn't mean that it didn't have a huge impact on me though. At first, I was just in a bit of a daze and rather enjoyed the pottering around the house – I was able to take my son to school and go to the supermarket to get food for supper. But after about three weeks I realised that I couldn't keep doing that, even though I enjoyed it, because my redundancy payment would very quickly run out."
Although David had been given a decent redundancy package, the lack of work available in his field and the general sense that companies were cutting costs rather than hiring, made him realise that he needed to be proactive in his job search.
David continued, "In the past, I had either been headhunted from different agencies or I had been able to find myself a new job through my professional network. It was clear that I would have to step up my game in order to find a decent job because the climate had changed and there were more good people going for the fewer good jobs."
Proactive Attitude
After updating his CV and making sure he was registered with the most respected recruitment agencies in his field, all of which confirmed that there were very few interesting jobs available, David thought about what else he could do to differentiate himself in the market.
David pointed out, "My experience and reputation wasn't enough anymore to simply land a great new job. Although it was humbling, it was also quite exciting – I started to see my career search as a challenging project and one that I could really get my teeth stuck into. I wrote a list of various people that I had worked with and researched them all on the internet. It sounds a little bit stalker-ish, but with LinkedIn, Twitter and industry forums, you can find out a lot about what's going on and who is making things happen."
"I made sure I set up clear, professional profiles online and then joined various networking groups in my field, both online and a discussion group that met once a month. I used my free time to be active in these discussion groups and set up a LinkedIn group that attracted members from the advertising industry. Through this network, I was able to regain a sense of 'belonging' and gradually started getting asked industry-related questions. From here, I was asked to do a very short consultancy project, which in turn lead to the potential for a full-time job. I'm sure that if I'd relied on my past methods of job hunting I'd still be looking!"
You might also like...