Redundancy Helped Me Find a New Direction: A Case Study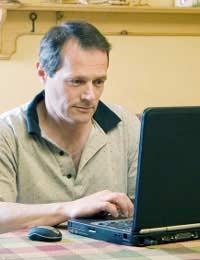 Although being made redundant is always a bit of a blow to the system, with it becoming more common as we face recession, it is at least not such a social stigma. Indeed, for Simon Parker, 38, being made redundant from his job at a high street bank actually gave him the push he needed to follow his dreams.
Simon, 39, told us, "To be honest, I hadn't really been that happy in my role for a while, but I don't want to leave the security of a good job for potential uncertainty. Being made redundant took that choice away from me and I'm actually pleased it did or I would be pushing forty in a job I didn't like."
Having worked as the small business advisor in the bank for a number of years, Simon knew the job inside out. He loved the interaction with customers and the ability to help small businesses get off the ground and flourish, but he was often frustrated at the bureaucracy that came as part and parcel of working for such a major financial employer.
He continued, "Our department across the organisation was one of the first hit by the recession as funding was cut dramatically and we were not able to lend so much to small businesses. When we were offered voluntary redundancy I leaped at the opportunity because I knew that I would have the luxury of time and money to be able to think about my next move."
Understanding Small Businesses
Having worked in the banking sector for some time, Simon had seen the issues faced by small business owners. While Simon was sure that he did not want to be employed by a major corporation any more, he was certain that he wanted to utilise the skills he had gained on a more flexible, self-reliant level.
Simon explained, "I knew that I still wanted to be a business advisor to small businesses, but on a one-to-one level that didn't rely on the products and services of a high street bank. I'd built up an excellent network of contacts through my job and, for some time, I had been aware that there was no local expert on business and financial matters that wasn't tied to an organisation. I didn't want to be an Independent Financial Advisor either, because I wanted to make the most of my small business experience too."
Time to Focus
With his redundancy payment giving Simon some time to focus on the type of business he wanted to start, he was able to speak to various people about what they would appreciate in terms of local business support. It became clear to Simon that there was niche market in offering 'freelance business mentoring' for local businesses, where new and existing businesses could ask an experienced advisor about practical and financial issues without being pushed to purchase a product or service.
Simon concluded, "I realised that many people who are self-employed or run small businesses don't have anyone to talk to that is friendly, experienced and independent. They are often the only people in their families that run their own businesses and they appreciate someone to talk that has their best interests at heart. I decided to establish a fair 'pay as you go' structure so people would pay for my time as and when they needed it, with no hidden costs or added pressure."
Simon's new venture is now at the end of its first six months in business and is gaining a steady following of customers. Even though he is not earning the same level as he used to, Simon feels more fulfilled and secure in his job.
You might also like...