Getting Fit Helped Me Return to Work: A Case Study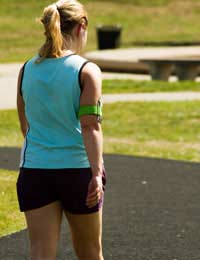 Being away from the workplace can have an impact on various areas of your life. You may miss the camaraderie of working with friendly colleagues, the regular pay check or the sense of fulfilment when you successfully complete a project. You may not miss the long commute, the alarm clock and the office politics, but that's for a different article!
For Becky Harper, 35, she missed the subsidised gym membership that came with her job in a city centre recruitment firm, not to mention the lunch break that helped her fit in regular training sessions.
She told us, "When I was on maternity leave with my first child, I certainly planned to return to work after about nine months. But I actually decided that I wanted to have my two children close together and I didn't really want to leave my little baby with a childminder, so I handed in my notice towards the end of my maternity leave. Although it was a bit of a financial struggle as we were living on my husband's salary, we felt it was best for the family."
Becky had another child just over a year later and spent the following three years at home with her children. By the time her first child was about to start nursery school, Becky decided to look for part time work.
Ready to Go Back to Work
She continued, "I knew that I was ready to get back to work and that the money would be helpful, but I was acutely aware that I had been away from the workplace - and the gym! - for just over five years. I had been focused on being a mum for that time and, looking at myself critically in the mirror one day, I realised that I hadn't had my roots done for ages, always wore comfy clothes and was about three stone heavier that when I used to go to the gym."
Becky knew that she needed to work on her appearance before she was able to make a good first impression in front of potential employers, although more to do with her confidence than her dress size.
However Becky pointed out, "I couldn't afford the time or the money to go back to a fancy gym, although I knew that I liked that type of exercise. I thought that I could use some of the techniques I learned at the gym and put them into practice in the park for free. I arranged a regular time to go off to the park after my husband returned from work and started gently. I also made myself be more active in the day time, rather than staying at home with the children. We would go off for long walks in the park and run around the garden as much as possible."
A Real Boost of Confidence
Becky already noticed a difference in her fitness after two months and, having had her hair cut and highlights done, she looked lots better too! Her new confidence in her appearance helped her regain confidence in her abilities and she updated her CV in order to start applying for part time work.
Becky explained, "I'm proud of myself for changing my behaviour for the better. I was starting to feel as though I'd lost my worth in the workplace and that I was destined to watch daytime TV for the next few years. I love being a mum but I was ready to go back to work part time and getting fit really gave me the boost I needed."
You might also like...