How I Updated My Skills on Maternity Leave: A Case Study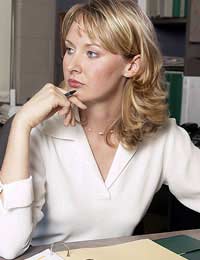 Maternity leave is an exciting time for all sorts of reasons, mostly because you have a new little bundle of joy. For some new mothers, maternity leave can also be a time to reassess their career and have a chance to think about their direction, even if it's just in those few short moments when the baby is sleeping!
Office administrator Sally Bennett used her maternity leave to think about what she actually wanted to achieve from her job as she had felt unfulfilled and unchallenged in her role for some time.
Sally explained, "I had worked for the same office furniture company for five years and knew my role as office administrator inside out. For the last two years, though, I was pretty much dragging myself to work each day because I was so bored. When I got pregnant I just decided to keep going and wait until I'd had the baby to think about what I wanted to do."
Time to Think
While on maternity leave, Sally found that she was able to think more clearly about her job, rather than when she was in the daily grind of the commute and the day-to-day running of the office.
She continued, "I knew that I was appreciated at work but I felt like I had become part of the furniture, so I wasn't really being offered any new projects or given any new career development opportunities."
Sally realised that she had outgrown her office administrator job but that she still wanted to be a part of the company. Having seen a couple of people join the marketing team, she knew that the currently-available role of marketing assistant was not too far away from her present role, if she upgraded her skills.
Sally told us, "I had seen the job specification before I left because I was dealing with the typing. I knew that I had some of the relevant experience – good IT skills, good telephone manner – but that I needed to work on my creative skills, written grammar and technical marketing knowledge. I went to the library and got out a couple of books on marketing and, while I was there, saw a free course on graphic design, which I signed up to. I realised that the job could get snapped up while I was on maternity leave, though, so I decided to call my employers."
The Turning Point
It was this move that was a real turning point for Sally as her employers had been finding themselves rather lost without her! Having proved her value to her employers, they decided to delay the recruitment of the marketing assistant for six months and support Sally with some extra training.
Sally concluded, "I arranged to have a meeting with my employers and I explained that I wanted more of a challenge when I returned to work. I told them of the research I had done to improve my relevant skills and the course that I had started. Luckily, they were impressed with my efforts and offered me a chance to move into the marketing department when I returned to work. Although they did make me promise to help train the new administrator! I really believe that my maternity leave helped give me the boost to develop my career, without wasting all my hard work in the company."
You might also like...