Returning to Work in Later Life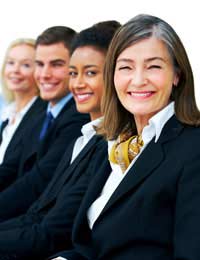 Returning to work in later life can be daunting. It can also be a very exciting time if you allow yourself to make the most of all the available resources to help you get back to work.
The older worker is in great demand – studies have shown that there is a great untapped area of expertise in women who have not returned to work after having children. Think of all those cerebral skills you have learnt while running the home, perhaps looking after children or elderly relatives or doing voluntary work?
Many work places appreciate that they can benefit from the different types of skills that older people have to offer – not simply skills that they have learnt from attending training courses, but proper real life skills that enhance their business and balance their working environment.
What's Your Motivation?
When you decide to return to work in later life, it is usually a conscious decision. Give yourself time to think about your reasons for returning to work – some may be happier reasons than others. This is especially important in terms of interview preparation as it will avoid that awful 'dry mouth' moment when you are asked a question and you have no idea how to answer.
Popular reasons for returning to work in later life are both financial and practical. Many women may have decided to not work while their children were growing up and now that they are older or have left home, they are keen to either get back to their previous career or simply use their time more effectively.
It is also common that recently divorced women find that they are keen to return to work for both financial requirements and because they have more available time. Do check what return to work credit you are entitled to.
Update Your Skills
Once you have decided that you are returning to work, you need to ensure that you are properly prepared. Whatever type of job you are looking for and whatever your motivation, nobody want to be paid less than they are worth or do a job that does not fulfil them at least in some way.
Start by looking at your local newspaper appointments section and high street or on line recruitment agencies. A good way to find suitable on line agencies is to Google your perfect job and ideal location, then you will get a list of agencies that recruit for that type of work.
If you feel that your skills are a bit lacking after being out of the work place for a while, pop along to your local library and ask about what courses and lessons they run. Even if they don't offer courses themselves, they will be able to point you in the right direction. Popular courses include IT skills and sales techniques.
Update Your CV
Now that you know what type of job you are aiming for and which agency to speak to, you need to update your CV and your interviewing skills. In order to get the chance to attend an interview you will have to apply for the job, which usually entails sending a CV.
There are various internet companies such as that can help you to write the best possible CV. They also offer interview coaching to help you work through any questions you are unsure about how to answer.
Remember that you will have a great deal of experience and knowledge that a professional advisor will be able to put into a well written CV that will help you put your best foot forward at this exciting time.
You might also like...