Dealing With Recruitment Agencies After Having a Baby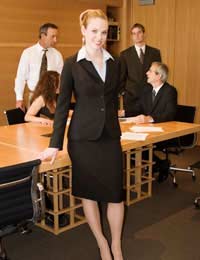 When you decide to go back to work after having a baby or taking extended maternity leave, you will probably need to visit a recruitment agency.
There is a great variety of types of recruitment agency and you are bound to find one that suits your requirements and character.
Recruitment agencies, like estate agents, often have a bad reputation, sometimes deservedly, for being all about the money and very little to do with the service they provide. If you go to an agency that is more profit than service focused, you can end up feeling dejected and frustrated.
Ask Around
It is a good idea to take some time before you start your job search to find out which of the many recruitment agencies are most likely to help you find what you are looking for. Start by asking friends and family if they have used an agency and would recommend it – other mothers in your social group would be good to ask too. See if there are any agencies that they would not recommend as well, to save you putting them at the top of your list.
Agencies work by registering job seekers on their books and trying to find them work through their list of contacts and clients. Many agencies are keen that their job seekers are only registered with them, so they can be sure that they are not having their details sent to the same job twice. Recruitment consultants will tell you that this is because they want to be 'exclusive' and so they can 'do all they can to help you' – the truth is more practical – if one recruitment company sends your details to a company that another agency has already sent them to an you get taken on, the agency that first sent your details gets the commission.
Find an Agency
In smaller towns there may only be one or two recruitment agencies in addition to the Job Centre. If there is only a Job Centre in your area, it will probably have a better quality of jobs than they tend to in larger locations.
You can look on the internet or in the Yellow Pages to find a list of suitable agencies in your area and you can also join on-line agencies that allow you to search for jobs by skill and region.
Once you have identifies what type of agency you are suited to – industry focused, seniority level focused or a general agency – phone up and make an appointment to register. Most agencies will allow you to have your registration interview early or late as they tend to work longer than standard 9 – 5 hours.
The Registration Interview
Your registration interview is a good way to ease yourself back into the interviewing process as it is not as formal or important as an actual job interview. However, it is still necessary to present yourself in the best light as your recruitment consultant is the person that will put you forward for the job of your dreams.
You will need to prepare your CV before your registration interview, although many recruitment consultants are happy to help you make the most of your skills and experience. Don't forget – the more they help you, the more likely you are to find a job through the agency and so they will get their commission. Many recruitment consultants are on pretty low basic wages so their commission is terribly important.
You might also like...