Looking For a Job After Having a Baby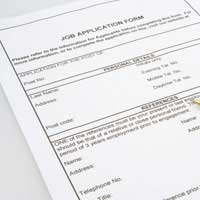 If you are not planning to go back to the same job after your maternity leave, now is the perfect time to find a new challenge.
Many women feel that they do not want to live the same life they had before having their baby and a new job is part of that change. You may find that your priorities have changed and you want to work different hours, have a shorter commute or start your own business from home.
Whatever you choose, it is worth spending some of your maternity leave thinking about what type of job you want. Ask yourself questions such as – what sort of employer is flexible enough for your needs? How much do you need to earn each month? Do you have an idea or skill you could develop into your own business?
There is a lot of support available for working mums – either from government organisations like Business Link which is set up to give practical help and advice to small business owners, or from recruitment agencies focused on flexible, part time work that harnesses the skills of women with children.
Once you have decided that you want or need to go back to work, you must prepare yourself to find work and know where to look.
Preparation
CV
You will need a clear, concise up to date CV. Make sure you include your employment history and education clearly, with details of your skills and interests. Many women who have had time away from work to bring up their family can feel as though these years cannot be included on their CV, but bear in mind the organisational and financial skills that running a home can require. This is also true of any voluntary work or school assistance you may have been involved with, such as PTA and governors meetings.
Clothes
If you do not have a smart, plain suit in black, grey or navy, perhaps now is a good time to treat yourself. Do not have to buy an expensive one, just something that you feel confident and professional in – try Next or Marks and Spencer's for good, affordable, well cut suits. Choose a plain white shirt or blouse, with clean, dark shoes. You can add a colourful scarf, belt or bag if you feel a bit too plain.
Interview Techniques
If you have not had an interview for some time, you may feel a bit nervous about the prospect. By preparing yourself for an interview and talking through your concerns with a professional or someone you trust, you can give yourself the boost of confidence you need to perform well. Practice deep breathing to calm yourself before the interview, work on a strong handshake with good eye contact and clarify any interview concerns you have.
Where to Find Work
Recruitment Agencies
There are vast number of recruitment agencies covering all types of work – high street agencies tend to focus on administrative vacancies and specialist agencies deal with one or two industry sectors. Find a local or online agency that suits your needs and call them to discuss your options. They will probably ask for you to attend an introductory interview with them and ask for your CV.
Networking
Use all your available friends and contacts to find out if there are any suitable jobs in your field. People love to help and will be able to tell you about potential jobs that agencies are unlikely to know about.
Become Self-Employed
If you have always wanted to set up your own business or would prefer to work from home around the needs of your family, now is the perfect time. Look at your skills and background and see what niche has not been filled. You can find finding through banks, the Princes Trust and various small business assistance organisations.
You might also like...